Our Honey Pot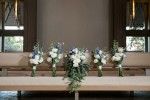 Mr. & Mrs. Reid Farmer
I got to work with Jerry and Sharon, but mostly Megan, and it was all a dream. We hired them for our florals, catering, cakes, and day-of-coordination. I told them our budget, thinking we would have a bare wedding, and they completely blew me away with what we could do with our pennies. The food (brown-sugar crusted pork tenderloin with a vegetarian option of a stuffed portobello mushroom) was amazing. I even had a last minute increase in guest count, and they were able to accommodate the change. I have received nothing but compliments on the food--and plenty of people who were not vegetarians ordered and enjoyed that option. The florals. Wow. Sharon really took my inspiration pages I gave her (printed photos from Pinterest with notes on what I liked about each photo) and brought my dream to life. She also helped to educate me on resourceful ways to accomplish the look I was wanting. And Megan. Megan worked with me throughout the whole process. She was wonderfully organized and prompt in responding, and flexible with me when Bride Brain set-in. She even listened to me tear up and get off topic when I was stressed. Furthermore, she paid attention to who was important to me during the day of, and ensured they were taken care of as well. I will recommend Megan forever, for I know she did more for me than I will ever know. We also got our cakes through them by way of Sinsational Cakes by Yaya. Again, they perfectly executed my vision for my simple cake and on the day of, it was tasty. This team was wonderful. I was skeptic to have to drive out to Azle for meetings, but looking back, it was the best decision I made. Hire these folks for your wedding and never look back!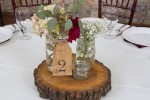 Mr. & Mrs. Nielsen
We absolutely could not have pulled off our wedding day without them. They helped us from the very beginning to the very end. We absolutely love Sharon and she made sure our day went off without a hitch. The food was amazing. The flowers were beautiful. Our guest nor us had to worry about a thing but eat, dance, and enjoy!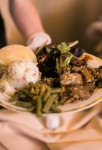 Mr. & Mrs. Wolf
Bumble Bee did great on setting up for my wedding . Megan assisted me for months on making it perfect and was so sweet the whole time in assisting me. I did linens, food, dinnerware and extra tables through Bumble Bee. Everyone told me how great the food was which was very great to hear! I got to eat a little but of course it was crazy for the groom and I. We would highly recommend them for catering any wedding. Thank you Bumble Bee!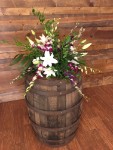 This company was great. We used their wedding coordinator who was a life savor for us and I would recommend this company to anyone. - Glenn and Sophie Thorson

We wanted to thank you for everything you did to help make our wedding day special and memorable. The flowers were absolutely beautiful. The cake and cupcakes were delicious. Everytime I see a picture of the cupcakes it makes me want one. I loved the icing and so did all the guests. Thanks so much for your time and generosity. We are so grateful. Melanie and Bill

Bumble Bee Occasions, We just want to say thank you for the awesome job you guys did at our wedding. The decorations were beautiful, the food delicious. We loved everything! Thank you so much for helping making our big day wonderful! Virginia and Chris Barnhill

Just a quick note of thanks for helping make our daughters wedding a memorable and special occasion. The food was excellent and your staff did a wonderful job. Thanks again and we look forward to working with you whenever possible at Canyon West. Have A Great Day!! Traci & Bill

Thank you very much for your service during this years Boards & Commissions Banquet. The place settings were elegant and deserving of such an event. The floral centerpieces were a big hit and I'm still receiving comments on their beauty. This event was successful because of you and your staff...much appreciated! Sincerely, Norma - City Secretary, City of Azle, TX

I wanted to thank you. You did an amazing job! The church was beautiful. My friends and family are still commenting on how beautiful everything was. I saw the doors up at your shop when I drove by - they look great!!! I cant even begin to express how grateful I am to you and your staff for the job you did!!!! Thanks again, Callie

To All at Bumble Bee, I'd like to thank you for a great job; polite, patient, and caring. It was a real treat working together. Also food buffet was super and the cake was great. So all in all, we were very pleased and happy for Chelsea and Cass. I would certainly recommend Bumble Bee!! Thanks, Willa n Roy " Grandma & Grandpa"
Sharon, Here's a small token of my appreciation for all your help and hard work at Megan's rehearsal, ceremony and reception! You worked really hard and everything went off perfectly!!! Also, thank you for your hugs and understanding. You truly helped me on the wedding day in ways you'll never know. Thanks again for helping her have a beautiful wedding! Sincerely, Debra
Thank you guys so much for your contributions to the spaghetti supper for Matt Wander. The event was a huge succes and you guys helped make it that way! God Bless, Debbie Wheeler